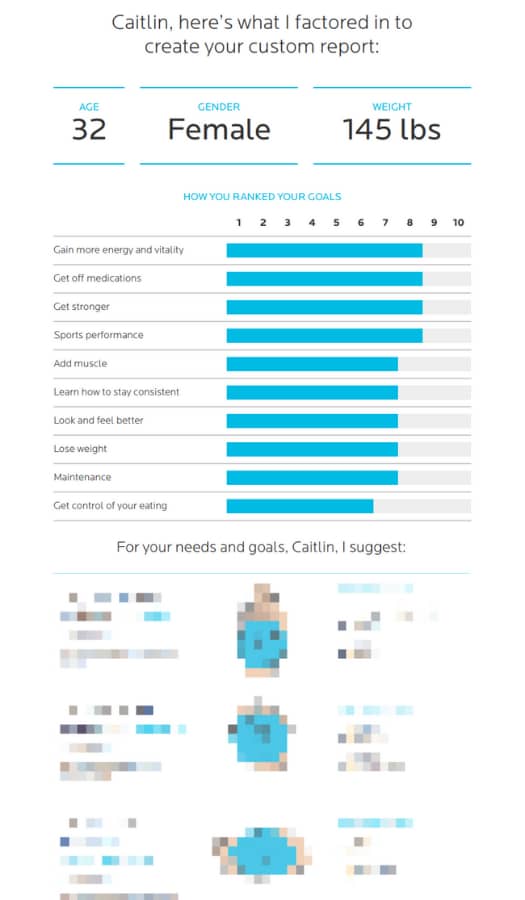 Together, we will take an incremental approach to build and reinforce healthy habits. These habits will allow you to achieve and maintain results.
After completing your intake, you will receive a customized Quick Start manual that you can follow at your own pace. You can receive this custom report as early as this week, before the program starts!
From there, the first three months we work on these skills, drilling into it with a new practice each week:
Eat appropriate nutrients 🍓
Choose higher quality foods 🥑
Eat well consistently 🍲
Eat well intuitively 🧘
If you continue the program with me for a total of six months, the following three months focuses on these skills:
Move often 🏃‍♀️
Move well 💃
Get enough sleep 🛌
Get deep sleep 😴
Prepare for anticipated stressors 👶
Tolerate stress 😌
As this program is a group program, the schedule of practices is the same for everyone in the small group.
How is this different from other weight loss programs?
This is not just weight loss, it's healthy lifestyle coaching.
Other programs claim to offer quick weight loss, but what happens when you leave the program? Most people are yo-yo dieting. They follow a restrictive diet, potentially losing some weight, but then they return to the unhealthy lifestyle they had before. Maintaining your health requires making mostly wise, mindful decisions and forming healthy habits. No perfect compliance required. I can coach you to change not only your pants size, but also your life.
Say goodbye to tedious food tracking.
Most programs require you to measure and enter all the food you eat. Some have even tried to make it simple by assigning food to points. Can you imagine doing that for the rest of your life? With my approach, you will use your hand to estimate the ratios of protein, carbohydrates, fat, and vegetables at each meal. You do have to be mindful of your portions, but you don't have to weigh and track your food throughout the day. Estimating with your hand is easy, and it goes everywhere you go!
Personable and passionate support and accountability – I am not an app or robot! 🤖
Many weight loss programs automate their clients in and out the door. Most of your interactions with other companies are through their software programs or through many employees with hundreds of users. With me, you have a coach that gets to know you and understands first hand the challenges and rewards of this journey.
I also coach a small community. With other programs that have implemented counseling, those individuals counsel hundreds of people. You also may not be talking to the same person each time you reach out to their limited support. They also often require meeting at a specific time if you want help, regardless of your busy schedule. With me you are not merely a number or email address, and there are no scheduled "weigh-in meetings" to attend!
Restrictive diets always backfire. My program is flexible to diet preference, and no food is "bad".
Other programs and diets give you restrictive rules to follow that are difficult to sustain. Unfortunately, for this reason, many gain the weight they had lost plus some back. My program is customized to whatever your food preferences are. There are plans for people who like to eat anything, as well as those who feel best with specific diets. I also coach plant-based, low fat, low carbohydrate, Mediterranean, paleo, vegetarian, and ketogenic diets. Most other programs do not offer that diet preference flexibility!
My approach aims to discourage typical "black and white" thinking when it comes to food. Any given food is not "good" or "bad". We place food on a continuum of "eat more" to "eat less". This reduces the psychological allure we have to "bad" foods. Want Doritos or Ice cream? That's fine. With this program, you will learn strategies to moderate your intake of "eat less" foods and focus on consuming more "eat more" foods.
Education and habit-building are for lifelong results.
Long term behavior change is also more effective when you tackle one behavior at a time. This program focuses on establishing one healthy habit at a time, so the chance you will stick with it is greater. The quick-to-consume instruction is progressive and served to you within a timeline that is reasonable for you to take action. Even with a busy schedule, this format makes it easy to make incremental changes. I will not overwhelm you with information that is difficult to digest. You will not have to wander through questionable, bloated, and/or unfocused reference material!
I extend my experience in healthy, whole food cooking and recipe formulation to you.
You don't have to be a chef, but a small amount of cooking skills are often required for good nutrition – unless you have a very fat wallet. Meal delivery services either offer bad quality, processed food or high quality food for a very high price. As a healthy, whole food recipe blogger at Clean Cooking with Caitlin, and mom of four, I have learned a lot of time-saving and light cooking techniques that I love to share.
For those who love meal plans, I put them together incorporating recipes online that I have reviewed and chosen with care. They even have functionality to add the entire shopping list to your Walmart or Instacart for pickup or delivery! Many other weight loss programs incorporate their own limited recipes and do not have recipe to cart functionality.
I am also available for remote support in the kitchen, even doing live cooking chats from time to time. During our time together, you can expect to learn a thing or two about cooking as well as ideal ingredients to incorporate into your food. 😉